When you start something new, you need someone to look up to.
Check out our top 10 yoga teachers.
1.Heidi Kristoffer
Style: Hatha, Vinyasa Flow
Heidi teaches at Strala Yoga in NYC where she is known as the 'upside-down girl' due to her penchant for inversions. Passionate about sharing her love of yoga with others, her classes offer everyone the chance to be upside down in a fun, safe way! Heidi is a wonderful example of the healing powers of yoga. Her personal practice helped her heal a herniated disc in her spine as well as helping to prevent surgery on two broken vertebrae. She uses core integration and alignment as well as laughter, to help her students "lengthen and strengthen" – while having fun!
2.Bikram Choudhury, Founder of Bikram Yoga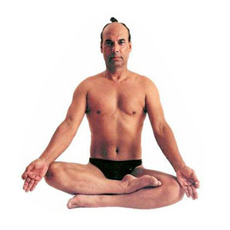 As of 2012 there were more than 600 Bikram Yoga studios worldwide, 330 of them in the USA, and 86 of those in California. NY Village Voice.
With 350 to 440 students in each Teacher Training Bikram is still personally training up to 1760 Bikram teachers each year. Given that he's been training teachers since 1994 we can assume there are now tens of thousands of Bikram Yoga teachers. LA Weekly.
Five women filed civil suits against Bikram in 2013 alleging incidents ranging from sexual assault to rape. The cases have yet to be heard.
Author of Bikram's Beginning Yoga Class and Bikram Yoga: The Guru Behind Hot Yoga Shows the Way to Radiant Health and Personal Fulfillment
378,000 hits on Google (Using his full name)
6,600 Twitter followers
174,000 followers for 'Bikram Yoga' on Twitter.
11,585 followers on Facebook
82,706 followers for 'Bikram Yoga' on Facebook
3.Molly Birkholm
As a yoga and meditation teacher, Integrative Restoration (iRest) teacher trainer, retreat leader, and speaker, Molly inspires others to create meaningful life changes. She's also a co-founder of Warriors at Ease, and has helped pioneer evidence-based trauma-sensitive yoga and meditation programs in military communities and other populations affected by PTSD. These include human trafficking survivors, people in recovery, homeless youth, prisoners, and refugees.
To date, Warriors at Ease has trained more than 800 teachers who work at more than 65 military bases and VA facilities, serving hundreds of thousands of soldiers and veterans in all 50 states and more than 10 military bases outside of the U.S.
In early 2018, Molly launched the Women's Empowerment Initiativein collaboration with Yoga International, a one-year digital course aimed at empowering women by providing them with both spiritual and practical tools to help them live at their full potential.
4.SONIA ROBERTS
Sonia has been teaching yoga for over ten years, and every Friday she publishes a small story on her blog about yoga students in the San Francisco Bay Area. Influenced by various traditions and teachers, her passion is to help others build core strength and reach their full potential. Check out her Instagram (@soniarobertsyogamagic) to see some incredible inspirational yoga photos of Sonia performing various poses.
5.Elena Brower
Style: Hatha, Kundalini
A yoga teacher for over 16 years, Elena is a global yogini who sets an amazing example through the work she does for others both on and off the mat. She is the founder and co-owner of Virayoga in NYC, where she teaches students awareness of their body, mind and soul through artful alignment. In addition, she is the Executive Producer of On Meditation, a series of films that explore the practice of meditation and she is the co-author of Art of Attention. Quite a combination of inspiration!
6.John Friend, Founder of Anusara Yoga
Anusara Yoga had up to 600,000 students at it's peak. It still holds regular global teacher training programs, immersions, and events.
Five hundred and eighty teachers are registered on the Anusara database. One hundred and fifty are reported to have defected due to the scandals surrounding Friend. 
Friend resigned from Anusara amidst allegations of financial mismanagement, sexual misconduct, and for being, amongst other things "like a thousand-headed Hindu painting," and "weird warlock perverted Dumbledore power whore." 
Friend has now relaunched himself with a new brand of yoga called Sridaiva Yoga.
34,800,000 Google results
No personal Twitter or Facebook
5,490 followers for 'Anusara School of Hatha Yoga' on Facebook
20,400 Youtube videos
7.Rod Stryker
Rod is the founder of ParaYoga® and the author of The Four Desires: Creating a Life of Purpose, Happiness, Prosperity, and Freedom.
Renowned for his depth of knowledge, practical wisdom, and unique ability to transmit the deep teachings of yoga to modern audiences, Rod is a leading proponent for living a life of purpose, fulfillment, and freedom. He has taught for more than 35 years, dedicating his life to improving the lives of others through his lectures, books, leadership, and service.
8.CHRISSY CARTER
Chrissy Carter strives to connect yoga with day-to-day life. If you aren't in New York City to take classes from her, you can still get a taste of her philosophy via her blog posts, which combine tips for your yoga practice with general wisdom, positivity, and even yummy recipes.
If you love inspirational yoga teachers, Chrissy's social media accounts are worth following! Her beautiful Instagram feed will have you staring and scrolling, and she's also quite active on both Twitter and Facebook.
9.Tiffany Cruikshank
Style: Vinyasa
Yoga teacher, author and wellness expert, Tiffany Cruikshank has over 15 years experience in the holistic health and yoga fields. She has a background in Acupuncture & Sports Medicine and is the Yoga Teacher and Acupuncturist at the Nike World Headquarters. Tiffany travels the globe delivering amazing classes and workshops and uses her lighthearted and playful approach to encourage people to "live life to the fullest". She is a regular contributor to many of the leading yoga and wellbeing publications and has published her first book Optimal Health for a Vibrant Life, a 30 day guide helping people move towards holistic health.
10.Gary Kraftsow
Gary Kraftsow has for over 40 years been a pioneer in the use of yoga as a vehicle for health, healing, and personal transformation. His journey as a yoga student, practitioner, teacher, therapist, and teacher of yoga teachers and therapists began at age 19 when he traveled to Madras, India (now Chennai), to study Saiva Siddhanta (the Saivite Tantra of South India) with the respected scholar and mystic V. A. Devasenapathi, and yoga with T. K. V. Desikachar (the son and student of T. Krishnamacharya).
Gary developed the protocol used in two notable studies by the National Institutes of Health: "Evaluating Yoga for Chronic Low Back Pain" and "Yoga Therapy for Generalized Anxiety," and for the "Mind-Body Stress Reduction in the Workplace" clinical trial for Aetna Insurance Company.
In 1999 Gary founded the American Viniyoga™ Institute through which he offers workshops throughout the U.S. and trainings for yoga teachers and yoga therapists.
If you are looking for workout clothes check our fitness and yoga leggings page. Sources: http://www.doyouyoga.com, http://www.theyogalunchbox.co.nz,
ww.yogainternational.com, http://www.wetravel.com